Back to the list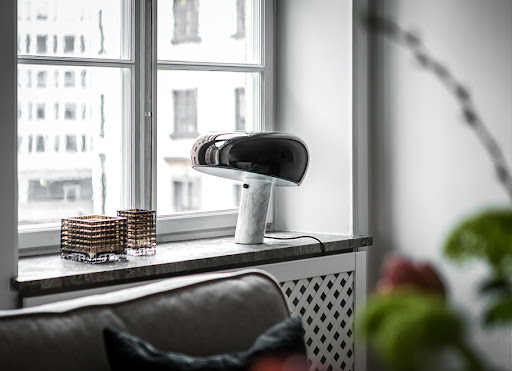 The Lamp Snoopy
Architecture
The Snoopy lamp is one of those design icons that cross the ages, passed down from generation to generation by imprinting an emotional force in the collective imagination. The designers were inspired by the famous character created by Charles M. Schulz, always accompanied by his faithful friend Charlie Brown, to imagine the fluid lines of the lamp.
It was designed in 1967 by Achille & Pier Giacomo Castiglioni. An iconic design with a great timeless allure. Edited by FLOS, it remains one of their best sellers after being reissued in 2002 (the year of Achille Castiglioni's death).
A real decorative object that we want to have in our interior. A decorative object that sets the tone in your room. It also works very well in an office, placed on a wooden sideboard, a minimalist black cabinet. Its inclined marble foot sliced ​​from the black of the reflector and this simple geometric shape but which exudes the good idea.
Carrara marble foot, black enamelled metal shade on green glass top, for a superb combination of 3 colors.
This Snoopy lamp diffuses a warm and direct light whose light intensity can be adjusted to create a subdued atmosphere.
Contact us for more information.
To be discovered at Segraeti Interiors from Monday to Saturday from 9:30 am to 7:00 pm but also by appointment.