Back to the list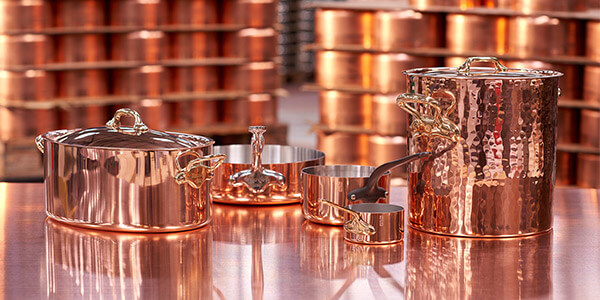 MAUVIEL 1830
The Table
At Segraeti la table, we offer you prestigious objects with a unique history. The Mauviel 1830 brand is a benchmark of quality in the cooking world. It has been able to thrive and anticipate culinary trends while preserving its DNA, whether in the kitchens of Paul Bocuse, at the Elysée or among all those passionate about copper cooking ... finds.
Already 7 generations that the flagship company of the Bay of Mont St Michel magnifies the kitchens of professionals and individuals, in France and abroad. His exceptional know-how is the master asset of his success and his ability to adapt is the keystone. For almost two centuries, Mauviel 1830 has been adapting to changes in the market.
Mauviel 1830 has been able to thrive and anticipate culinary trends while preserving its DNA. Products intended for professionals were first made of copper, a noble material by definition, the best heat conductor. But far from being limited to red metal, the house has been able to innovate and diversify, fashioning with materials such as steel, cast iron, aluminum and above all multi-layered stainless steel whose performance today almost matches those copper. Thanks to its innovative and modern spirit, Mauviel 1830 has become the only company in the world to know how to work with so many materials, which has elevated it to a prominent place in the radius of excellence.
At Segraeti find all the lines of pots and pans with a pure design made in a modern material such as "M'Stone". Its material in black anodized aluminum, its straight edges, its integrated induction back cover and its cast stainless steel frame engraved in the mass symbolize modernity and functionality. Its high performance non-stick ceramic interior coating meets the expectations of dietetic kitchens.
The M'stone² collection is the line of modern gourmets. Find the Mauviel M'Stone² range in stores at Segraeti La Table and on segraetishop.com